As an Amazon Associate I earn from qualifying purchases. Rescued Greyhounds is supported by its readers and may earn affiliate commissions when you purchase through links on this website. See our Affiliate Disclaimer for more details.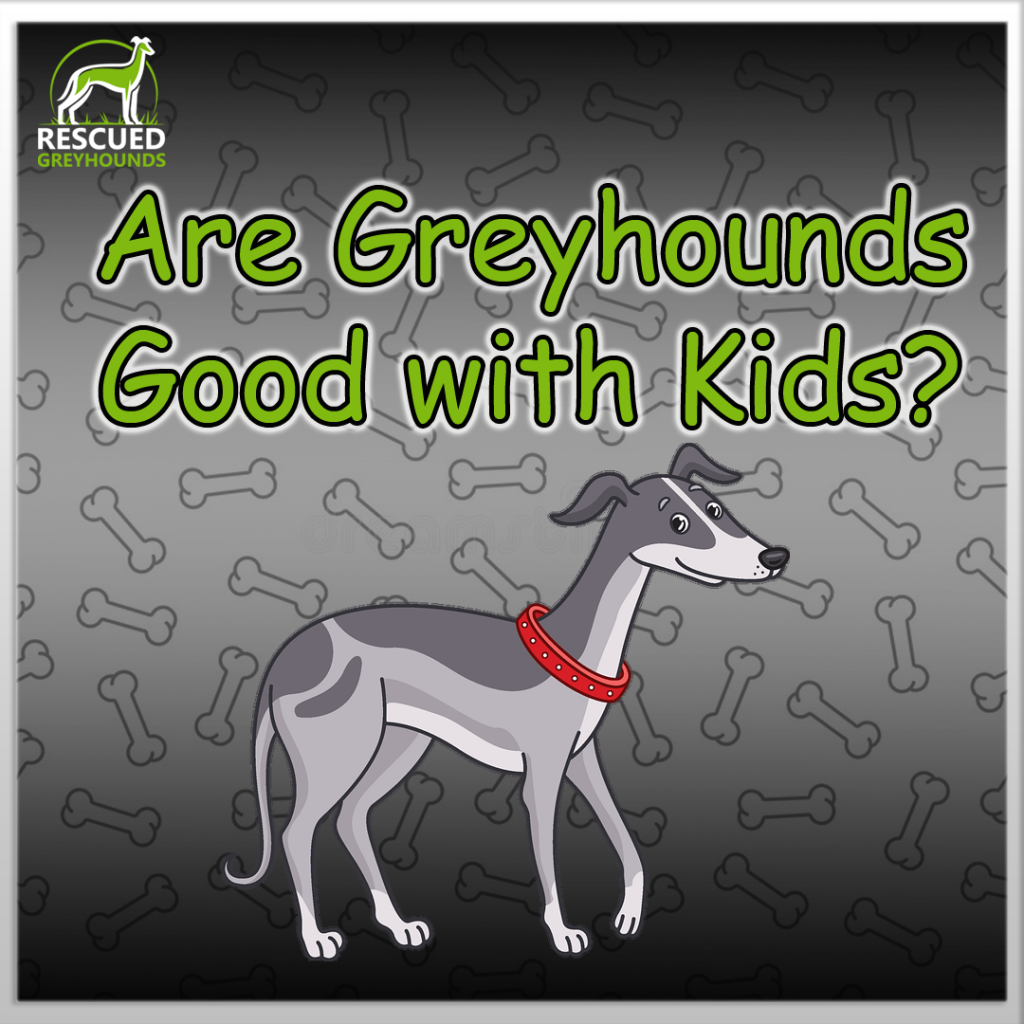 Are greyhounds good with kids? This can be a tricky question to answer since all dogs and all children are different. However, when it comes to greyhounds, there is some general information that can help families make the best decision when deciding if a greyhound is the right pet for them.
Let's take a closer look at why greyhounds might or might not be the right choice for families with kids.
Greyhounds as Family Pets
Greyhounds are generally gentle, loyal, and intelligent animals that make great family pets. They typically get along well with other animals (quite often Greyhounds like cats too!) and children and will provide companionship for everyone in the house.
Greyhounds are also relatively easy to train and will respond quickly to commands due to their intelligence. Some people even consider them to be "cat-like" due to their calm nature.
However, it is important to remember that greyhounds were originally bred as racing dogs, so they have an inherent need for exercise and attention. If you are looking for a pet that requires minimal effort on your part, then a greyhound may not be the best choice.
It is important that owners provide their greyhound with daily walks and plenty of playtime in order to keep them happy and healthy, especially around children.
No products found.
Greyhounds and Kids
When it comes to kids, most greyhounds tend to do well around them if they are properly socialized from an early age. Greyhounds are quite sensitive animals, so it is important that any interactions between them and children are supervised in order to ensure that both parties remain safe and comfortable throughout their playtime together.
Furthermore, since most greyhounds were raised in kennels prior to being adopted as pets, they may need some extra help adjusting to life in a home setting. This means providing them with lots of love and patience during the transition period.
Greyhounds Make Excellent Pets For Families With Kids
Greyhounds are gentle, friendly and love people! These sweet dogs bond closely with their owners, so children will feel especially connected to them. If you have children, bringing a greyhound into the family can be a great way to teach them about how to be responsible pet owners and open their eyes to the joys of having a playful pup around.
Not to mention, greyhounds almost look like they're smiling at all times, which is sure to bring your little ones loads of joy and laughter. So if you've been thinking about adding a four-legged friend to your home for your little ones, consider an affectionate greyhound!
Can Children and Greyhounds Become Best Friends?
When you're looking for an animal to bring into your home, it's almost natural to consider Greyhounds (at least I think so!) This gentle, gracious breed is known for its calm, affectionate nature which makes them great for families. They're perfect for tranquil households with young children that require a loving and loyal companion.
Greyhounds may act shy and timid in the beginning but have the capacity to bond closely with those who they find comfort in. With a little bit of patience, consistency, and positive reinforcement training, greyhounds can truly blossom in the right environment!
They can become devoted family members that will cherish any time spent cuddling or playing games like fetch with their best buddy. What better way to guarantee many treasured memories than bringing a greyhound into your home?
Dog Themed 18″×18″Set of 4 Running Chasing Greyhound My Dog is Faster Than Yours Decorative Throw Pillow Case,Home Bedroom Living Room Girl Room Sofa Couch Bed Decor,Gifts for Dog Lovers Girls Women
SIZE: 18" x 18"with invisible/hidden zipper.
MATERIAL: Made of high quality flannel.It is comfortable & durable polyester fabric,easy to care,skin-friendly.
IDEAL HOME DECOR: It will be a perfect indoor decoration to the use of your home, bedroom, living room, guest room, etc. And also suitable for outdoor place like garden, party, picnic, wedding, office, car etc.
PERFECT GIFT IDEA: Not only home decorations, but also perfect gifts for parents, family, friends, co-workers and ideal gifts for different scenes or festivals.
EASY TO CLEAN: Machine wash or hand wash in cold water.
It is also worth noting that while many greyhounds do great around children of all ages, some may not have been bred or trained specifically for family life or living with small children. These dogs may require more patience or specialized training than those who have been specifically bred as family pets.
Before adopting any pet, especially one who has come from an animal shelter, it's always best practice to consult with veterinarians or trainers who specialize in dealing with rescued animals in order to determine whether or not they would make a good fit for your family dynamic. There are also many awesome Greyhound foster families that can also give you great info about greyhounds and children to help ease your mind.
Keeping Greyhounds And Children Safe Together
Keeping greyhounds and children safe together can be done with proper supervision and training. While these dogs are often considered gentle, they still need to understand boundaries and respect when interacting with kids.
The first key is to ensure that both the child and the dog are comfortable in their environment. The child should learn how to approach a greyhound in a respectful manner, making sure not to startle or crowd the dog. The greyhound should also be taught how to behave around small children.
These breeds tend to be mild-mannered but consistent training methods can help raise an even more well-behaved pup that is both safe for your kids and enjoyable for you! With a few simple steps and some patience, fostering an amicable relationship between a greyhound and your family can be easy and incredibly fulfilling.
When Greyhounds first arrive at your home, be careful when introducing children to him/her. In new environments, Greyhounds can sometimes be stressed so you want to be careful in allowing children to be too close. When we first got our Greyhound Gill, he did snap at me when I got too close so I was leary about allowing our children to be too close at first. Over time, as Gill became comfortable and a part of the family, he became great friends to our kids. Give them some time in the beginning and things eventually work out for the best.
The Sighthound Adoption Handbook
Owens, Michael (Author)
English (Publication Language)
85 Pages - 08/09/2022 (Publication Date) - Pepperback Press, Inc. (Publisher)
Wrap Up
All in all, when taking into consideration personality traits such as loyalty, intelligence, sensitivity towards others (both human and animal), calmness of temperament, need for exercise and attention, greyhounds often make wonderful additions to families with kids!
With proper socialization from an early age (as well as patience during transition periods) these lovable 'hounds can bring joy into homes without fail! So if you're considering adding a new four-legged friend into your home, consider adding a loving Greyhound!
I hope you enjoyed my write up on Greyhounds and Children. We have a lot of experience with having a few greyhounds be members of our family with young children so we know it can work great. If you have any questions or would like some more feedback from our family who has first hand experience, please hit us up on the Contact page. Take care!
Brian Cooper
Brian Cooper is a 'Greyhound Dad' and is the founder of Rescued Greyhounds. His Greys "Gill" and "Brittany" are his inspiration and his mission is to teach about and promote the adoption of Greyhounds. He also has over 40+ years experience with many other breeds including Toy Poodles, Collies and Border Collies.