As an Amazon Associate I earn from qualifying purchases. Rescued Greyhounds is supported by its readers and may earn affiliate commissions when you purchase through links on this website. See our Affiliate Disclaimer for more details.
One of the first questions you may ask yourself when going through the adoption process is what is the best collar for Greyhounds?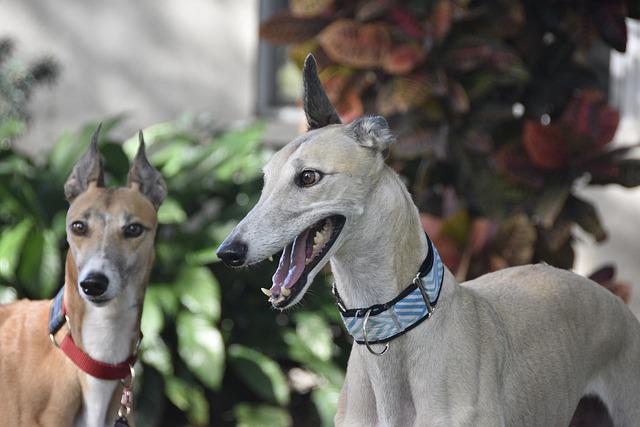 Often you'll see Greyhounds with very similar collars, but are these "special" collars that are made specifically for Greyhounds?
And what about wide collars? Does it make a difference if your Greyhound has a thin or wide collar?
There are many questions about collar types, styles and sizes and I'll do my best to explain all you need to know about getting the right collar for your Greyhound.
Types of Collars
Before we get into the best collar for Greyhounds, let's talk about the different types of collars that are available.
There are essentially 3 categories of dog collars on the market today. Each category addresses a specific need for dog owners.
Regular/Normal Everyday Dog Collars
These are collars that every dog owner will need to have. They're meant for everyday use and most dogs wear these types of collars 24/7.
Flat Collar
These are your typical flat buckle collars that are snug fitting and typically made of nylon material.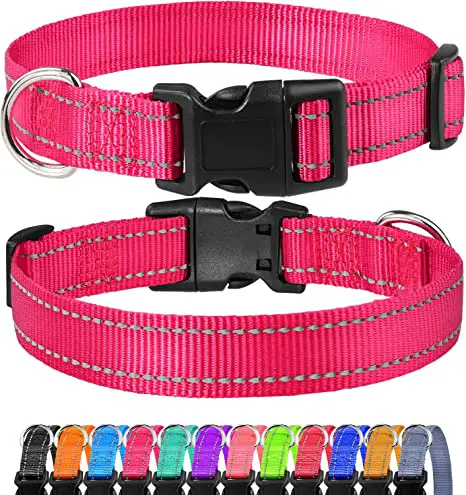 The size is adjustable and it is somewhat tight fitting on the dog's neck to prevent it from slipping off.
I would say a majority of dog owners use a flat collar although it is not the normal collar choice of a Greyhound owner.
Martingale Collar
A Martingale collar looks very similar to a flat collar. They are typically made of nylon like a flat collar but without the snap buckle (in most cases but not all.)
Martingale collars slip over your dogs head to fit snugly on the neck and they have two loops. The first loop adjusts the size of the collar while the second loop is meant to adjust the tightness while the dog is on a leash or lead.
So what does a Martingale do? When the lead is pulled, the martingale collar tightens as a response. They are considered non-slip collars because they rarely slide off the dog's neck and provide more control of the dog than a flat collar.
Martingale collars are mainly used to discourage pulling and they work well with many breeds of dogs.
A Martingale is probably the most popular choice amongst Greyhound owners. Because a Greyhound's neck is often larger than their head, flat collars tend to slip off while a Martingale stays securely on.
Head Collar
A head collar (aka head halter) is a special collar that helps to control your dog in a different way than Martingale and flat collars.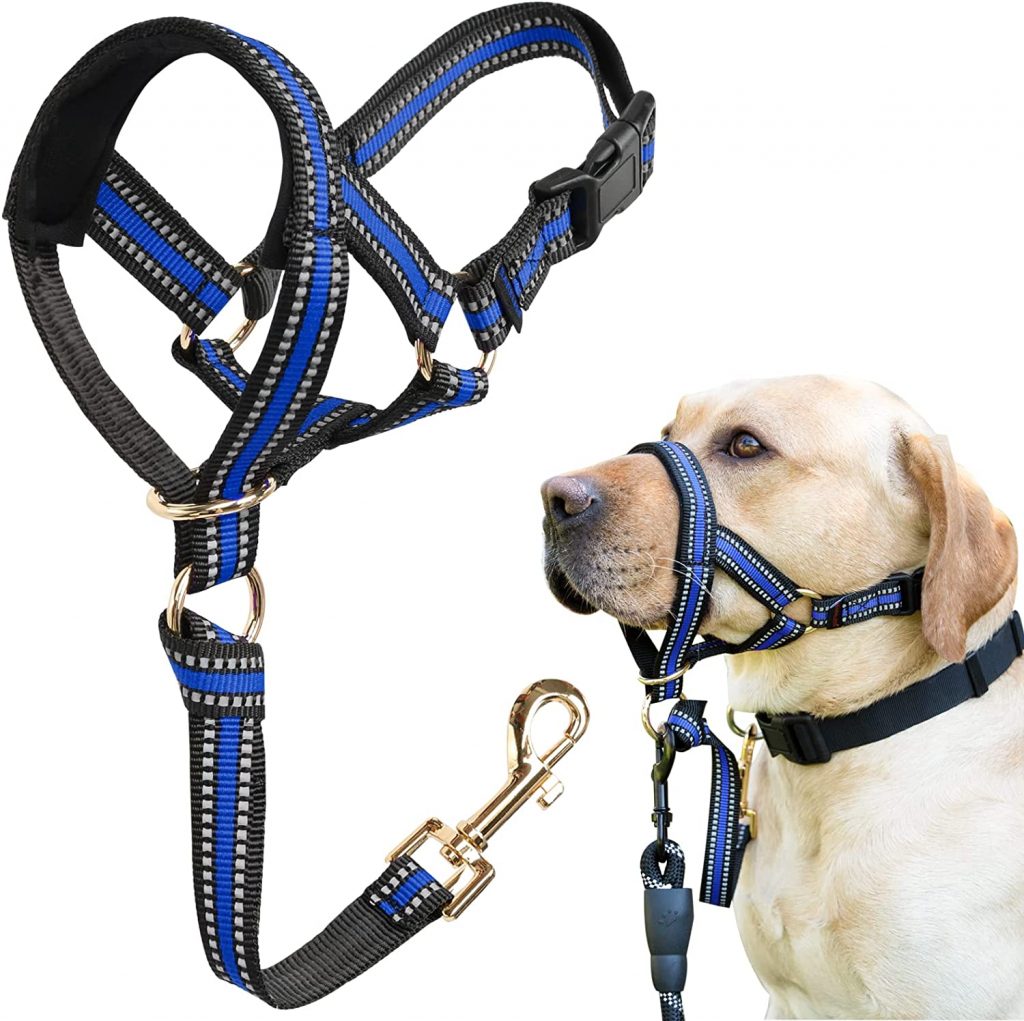 Instead of just wrapping around the dog's neck, the head collar loops below the dog's eyes and around its muzzle. The leash is then attached to the collar right below the dog's chin.
If your dog begins to pull on the leash, the head collar puts pressure on the top of the dog's muzzle which results in the dog's chin pulling to the side or downwards.
A head collar typically provides much more control over the dog's head which can help you quickly change where your dog's head is pointing. It also has been shown to reduce a dog's pull on a leash as the dog will often find the pressure on his muzzle uncomfortable.
Although a head collar can be used on the long muzzle of a Greyhound, it is not the first choice amongst Greyhound owners. In certain situations, though, it can definitely help control and teach a Greyhound to walk better on a leash.
Dog Harness
I think there are dog owners that are against neck collars for many reasons and the harness is typically the collar of choice for these owners.
A dog harness loops around the chest of the dog and will often have a snapping buckle to secure it. They are often made of nylon material like flat collars and are a popular choice amongst dog owners.
A harness will put pressure on your dog's chest when on a lead as opposed to the other collars mentioned above that put pressure on the muzzle or neck areas.
Many find these harnesses are a much more humane way to handle a dog and I find most dog owners are either harness or collar people.
A dog harness can definitely be used for a Greyhound so it's something I would suggest if you're totally against neck collars. My recommendation would be to find a Greyhound dog harness made specifically for larger breeds as not all sizes and types work the same for all dogs. As you'll see from the picture above, my Brittany has a nice red
WINSEE dog harness
that I often use when I walk her. She is comfortable wearing it and she knows it's 'walk-time' as soon as I put it on her! This harness is right around $20 and is excellent quality. You can buy this exact one on Amazon
HERE
.
Aversive Dog Collars
These types of dog collars are normally used to stop your dog's behavioral issues.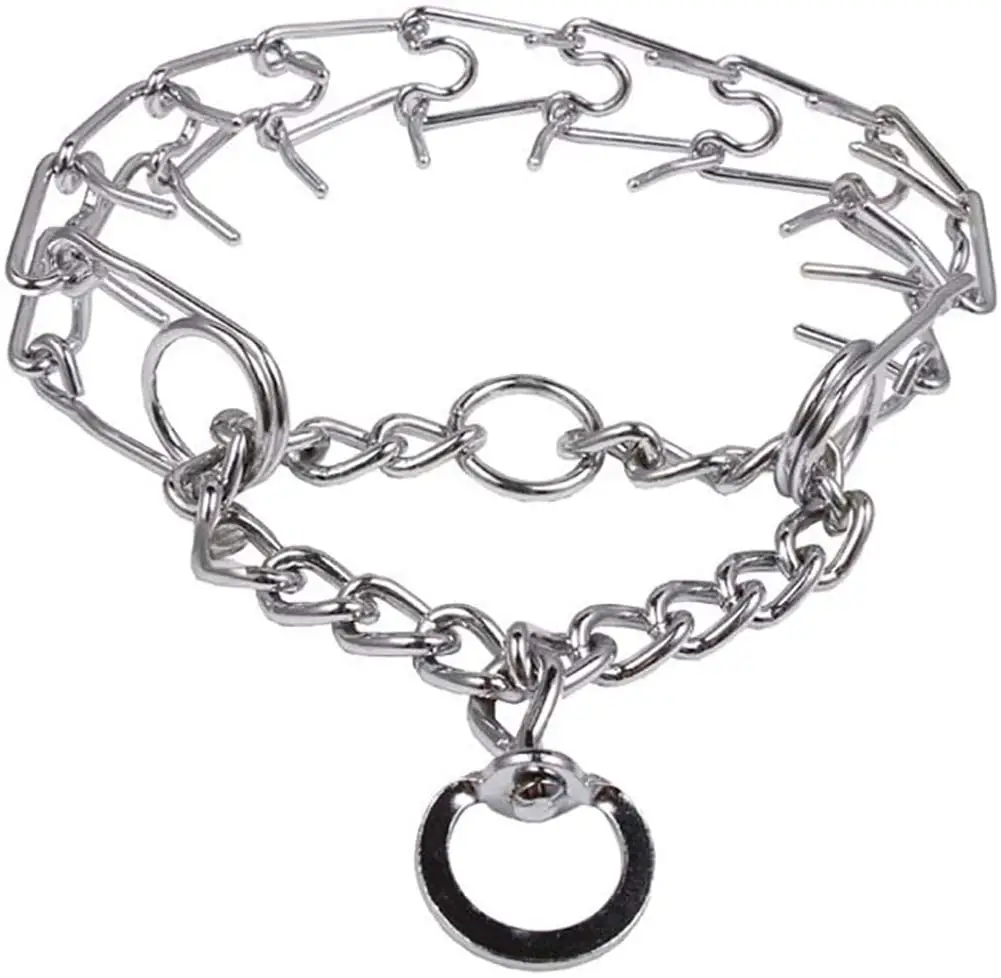 There are times one of these might be needed, however I don't agree with them and I think there are better ways to teach a dog. Especially a Greyhound.
I don't really want to go into detail on these types of collars here because they do not (and honestly should not) pertain to Greyhounds.
I don't see situations where barking or behavior type issues require some sort of electric shock treatment. Greyhounds are very docile breeds so there should be no reason this type of collar is used.
Some aversive type collars include:
Bark Collars
Choke Chains
Shock Electric Collars
Pinch (Prong) Collar
All of these collars are meant to address certain behaviors like excessive barking or aggressiveness and they issue a shock or pinch to punish the dog in a way.
What most find out is the dog has no idea they're being 'corrected' so they do not learn in the right way.
In 99.99% of cases, Greyhounds should never have a need for such drastic measures like using aversive type collars. You'll find most Greyhounds are super sweet, obedient and calm and will never need to be corrected in this way.
Speciality Collars
While aversive type collars will most likely never be needed for your Greyhound, there are some speciality collars that you may want to consider.
Do Greyhounds need special collars like these below? Maybe, maybe not and it depends on your specific situation.
Here are a few speciality collars we might recommend in certain situations.
Flea/Tick Collars
Obviously if you live in an area of the country that is prone to fleas and ticks, you may want to consider a flea and tick collar.
I think most people these days are prescribed Frontline Plus or something similar as an alternative to collars, but these are still an option. Make sure you consult with your vet first.
Elizabethan Collars
So this might be the formal name but we're all familiar with the dreaded CONE OF SHAME!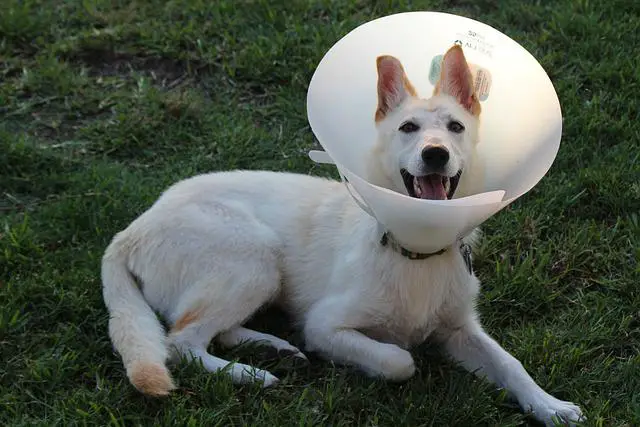 You would normally only use the cone of shame for medical type issues that require you to prevent your Greyhound from licking, biting or scratching.
Contrary to popular belief, most dog owners don't buy the cone just to humiliate their dogs! They are funny to look at, but they serve a purpose and can be used for Greyhounds in need as well.
These can be purchased online without a prescription from a vet, but in most cases you won't need a cone unless your vet indicates it's required. And in those cases, most vets can provide them (at a cost of course.)
GPS Collars
Now here is one that I think might be a good option for a Greyhound.
As we all know, Greyhounds can run fast and they have been known to get away from their owners at times. That is when a GPS tracker would come in handy.
Now many pet owners believe that they can track their pets if they are microchipped. However, that is not the case.
Currently, there is no technology on the market today that combines a microchip and GPS tracker. The chip can provide owner information when wanded by a vet or another authority, but you cannot track your dog via GPS technology from that chip.
That being said, buying your Greyhound a GPS Tracking Collar is a great idea. Greyhounds are so fast that if they do get away from you, you may never find them.
Tracking them via a GPS tracker could be the only way you get your Grey back so I would recommend these types of tracking devices for your dog.
Most GPS devices for dogs come as attachments to your dog's own collar. They normally attach very easily and snap in place around your dog's existing collar.
Tractive GPS Tracker & Health Monitoring for Dogs - Market Leading Pet GPS Location Tracker, Wellness & Escape Alerts, Waterproof, Works with Any Collar (White)
REAL-TIME GPS TRACKING: See the location of your dog and track them anywhere with no distance limit
WORKS WITH SUBSCRIPTION: The subscription covers all the costs of the integrated SIM card and data, starting from $5/month (varies depending on subscription plan); try it for free with our 30 day money back guarantee
GET HEALTH ALERTS: Your tracker monitors and tracks the sleep quality and activity patterns of your pet; when it detects something unusual, you'll get an alert via email
ACTIVITY TRACKING: Keep your dog fit and healthy by monitoring your dog's Wellness Score; compare your pet's activity level with that of all other pets of the same breed
ESCAPE ALERTS: A notification gets sent straight to your phone when your dog leaves your custom-made area
How to use a Collar Safely on a Greyhound
Here are some tips on how best to use a collar on a Greyhound. Some of these tips seem like common sense, but Greyhounds can be a bit different so it's not always one-size-fits-all when it comes to directions.
Greyhound Collar Tip #1: Make sure the collar fits snugly, not too tight or loose.
Greyhound necks are very skinny so you want to ensure the collar won't slip off AND not choke them.
Use the two-finger rule by inserting your index and middle fingers under the collar to ensure there's enough room. If you can't slide those fingers under the collar easily, it's too tight.
Greyhound Collar Tip #2: Make sure to check the collar often for rips or tears.
I tend to change my Greyhound's collar a few times every year. Between scratching at it and general wear and tear, dog collars are not bulletproof.
Check the seams often and if you see a rip or tear, get a replacement collar immediately.
Greyhound Collar Tip #3: Clean the collar every so often.
My Greyhound Brittany is a nice girl but she's really messy. She's a sloppy eater, runs around the yard like a nut and kicks up dirt and drags it into the house often.
The collar does take a beating sometimes and will get dirty so take it off every so often while she's in the house and clean it with soap and hot water. The collar will be better looking and last longer too!
Greyhound Collar Tip #4: Replace the collar after 1-2 years of use or as needed.
I know dog collars are built to last when you buy good ones (not the dollar store variety) but everything has a useful life and eventually comes to an end.
To be safe, make sure you're getting your Greyhound a new collar at least every year or two. Not only will it freshen up their look, you'll feel better knowing you have a secure collar that won't break or fall off unintentionally.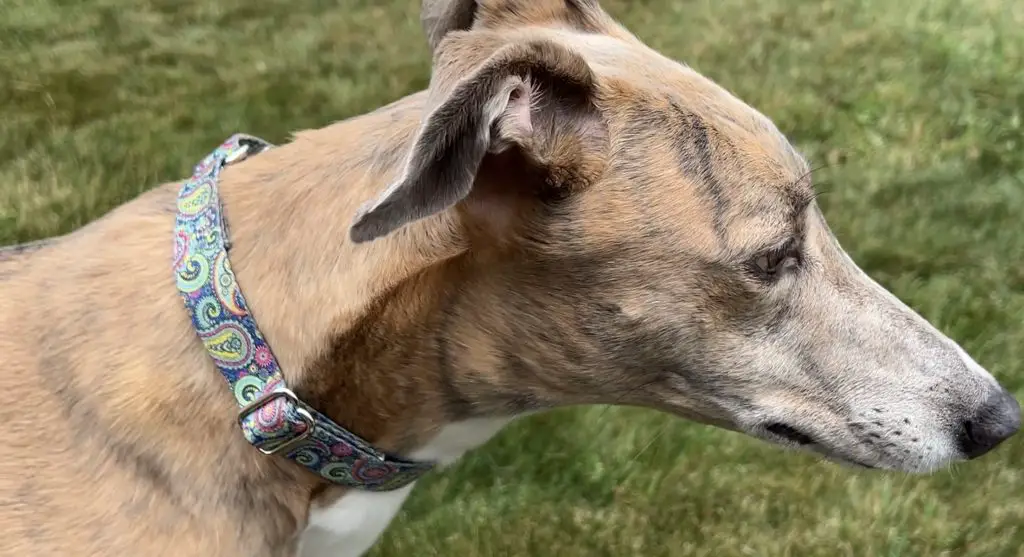 Mistakes You Can Make When Buying A Collar For A Greyhound
Yes, even the best of us Greyhound people can make mistakes and the same can be said about buying collars for our best buddies.
Here are some common mistakes people make when buying a collar for their Greyhound:
Mistake #1: Buying The Wrong Size Collar
Make sure that you measure your Greyhound's neck before buying a collar. The last thing you want to do is buy the wrong size, have to send it back, get a refund, reorder a new size, blah blah blah. It's a pain so make sure you get the right one from the get-go.
SEE MY RECOMMENDATION BELOW INCLUDING HOW TO SIZE IT TO EXACTLY FIT YOUR GREYHOUND!!
Mistake #2: Buying a Collar Strictly Because of the Design
If she's a girl Greyhound, she should have a pretty pink collar, right? Or Brutus the Greyhound should have a black one with skulls on it, right? Not always!
I always try to find a nice looking collar and I tend to find something I like, but I won't compromise quality and type just so I can find my Brittany a pretty princess collar.
Do not buy a collar just because it has pictures of Shrek on it or because it's the special Walt Disney World Haunted Mansion edition collar.  It may look nice but we want to protect our Greyhounds and ensure we buy the best quality collar we can find. Buying a straight collar with funky designs when you should have purchased a more simple looking Martingale is not the best decision.
Mistake #3: Buying a Cheaply Made Collar
For obvious reasons I would recommend avoiding cheap collars from your local big box stores, for the most part. A lot of pet stores like Petco and PetSmart have a variety of collars to choose from, but I would avoid anything that looks and feels cheaply made.
Collars should ideally be made of sturdy polyester material (although some are nylon) and the metal rings should feel of good quality. Some Martingale collars will slip over the neck (which we recommend) and others may have a quick-snap buckle.
THE COLLAR I RECOMMEND IS HIGH QUALITY AND WON'T BREAK THE BANK. CHECK IT OUT BELOW!
Mistake #4: Buying a Collar That Will Injure Your Greyhound
I won't go into it again, but buying an aversive collar for just about any reason when it comes to Greyhounds is not recommended.
We all know that all dogs do not act the same way, but these types of collars are more made to punish the dog for a behavior and I think most Greyhounds do not have to be corrected in this way.
I have yet to see a Greyhound that barks non-stop (or even for a minute or two) or is super aggressive in any way. So a barking collar or something similar is just not something I would urge you to look into at all.
Our Greyhounds are family. I would never buy a collar or any device that could potentially injure them and I urge you to do the same.
MY RECOMMENDATION:  What Are The Best Dog Collars for Greyhounds?
THE MARTINGALE
The collar I use 100% of the time and that I have used for both of my Greyhounds is the MARTINGALE.
Martingale collars are the gold standard when it comes to Greyhounds as they are no-slip and perfectly fit the long narrow necks of this breed.
Because the Martingale will tighten if your dog pulls a bit when walking on a leash, these leashes are also a humane way to teach your Greyhound to not pull as much when walking. They are excellent alternatives to aversive collars that have a higher potential to injure your dog.
Martingale collars also come in a variety of colors and designs which is really nice. In most cases, we'll purchase them online and Amazon is actually a GREYT place (haha) to find a nice Martingale. Check out some of the ones we recommend below.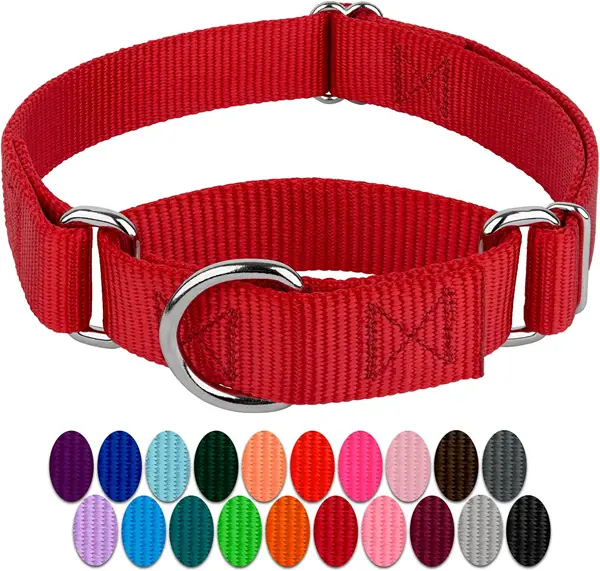 Greyhound Martingale Collar Sizing
One of the things that I struggled with when first purchasing a Martingale collar for my Greyhound was sizing. I initially never knew what size would fit my particular Greyhound so I ended up experimenting and trying different sizes.
For my Brittany, we ended up going with a MEDIUM and it fits her perfectly. She weighs about 68-70lbs on average but that should not be the determining factor when it comes to sizing a Martingale collar.
As you'll see below in the size chart, you'll need to measure your Greyhound's neck size in order to select the proper sized collar.
| Tag Size: | Measurement: |
| --- | --- |
| XS | 9-12" neck circumference |
| S | 11-15" neck circumference |
| M | 15-21" neck circumference |
| L | 18-26" neck circumference |
| XL | 23-31" neck circumference |
**NOTE** Measurement should be taken at the top of the Greyhound's neck directly behind the ears.
Also, when you search for Martingale collars you'll see that they come in different WIDTHS or THICKNESS. You'll find ½", 1", 1.5" and 2" as the most common sizes when it comes to widths.
For our Greyhound we went with the 1" size and it looks perfect on her.
Why do Greyhounds wear thick collars?
Martingale collar widths are important but in my eyes it's less important than getting the overall size correct. When in doubt, the 1" or 1.5" thick collar would look totally normal on most Greyhound dogs and fit them nicely.
If you have a larger Greyhound, quite possibly they have a longer neck so the larger 1.5" (or maybe even the 2") thick size might work and look better. A thick collar (aka wide collar) on a longer neck will spread the pressure out over a longer area of the neck.  This results in less chance of collar related injuries.
Here's my Greyhound Brittany with her 1″ wide, size MEDIUM Martingale Collar. Just for reference, Brittany's neck measures 14″ in circumference just behind her ears. You can find this exact collar on Amazon by clicking Brittany's picture below or by going HERE.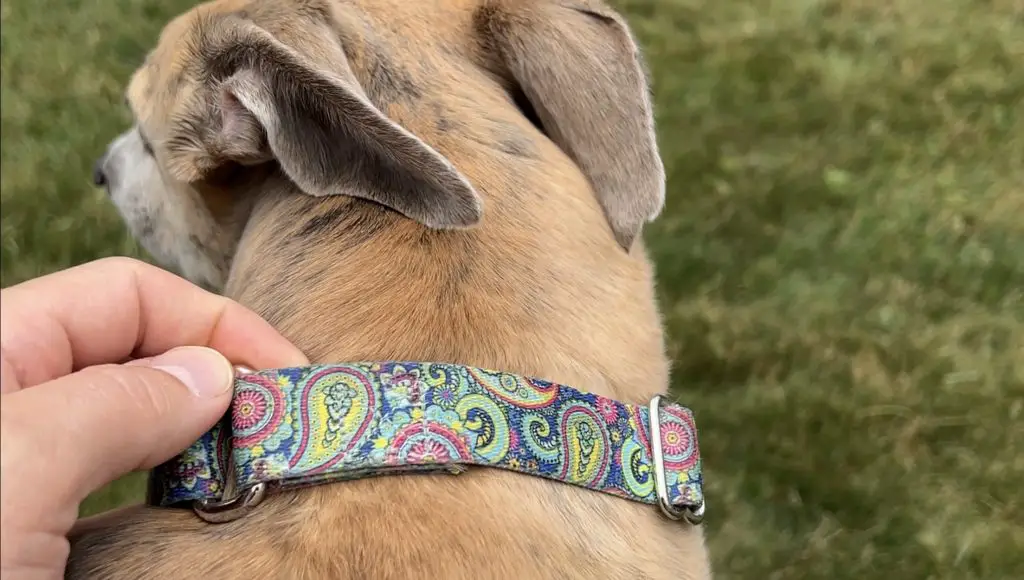 CONCLUSION
Buying a collar for your Greyhound shouldn't be a quick decision and definitely shouldn't be based on the design.
Make sure you choose a good quality collar and you find one that fits your Greyhound as perfectly as possible. It's worth the time, effort and cost to ensure your Greyhound is safe….and looks good too!
Do you have any questions about determining what is the best collar for Greyhound dogs?
Let me know by contacting us today!  And if you know someone who has a Greyhound or is about to adopt one, please share this with them!
Brian Cooper
Brian Cooper is a 'Greyhound Dad' and is the founder of Rescued Greyhounds. His Greys "Gill" and "Brittany" are his inspiration and his mission is to teach about and promote the adoption of Greyhounds. He also has over 40+ years experience with many other breeds including Toy Poodles, Collies and Border Collies.