As an Amazon Associate I earn from qualifying purchases. Rescued Greyhounds is supported by its readers and may earn affiliate commissions when you purchase through links on this website. See our Affiliate Disclaimer for more details.
One of the things I questioned when I first adopted a Greyhound was can Greyhounds be left alone in our home and for how long.
It's a common question from new Greyhound owners and it's sort of complicated because every dog is different.
However there are some common ways to answer this question and I hope my experience with Greyhounds will help you figure this out.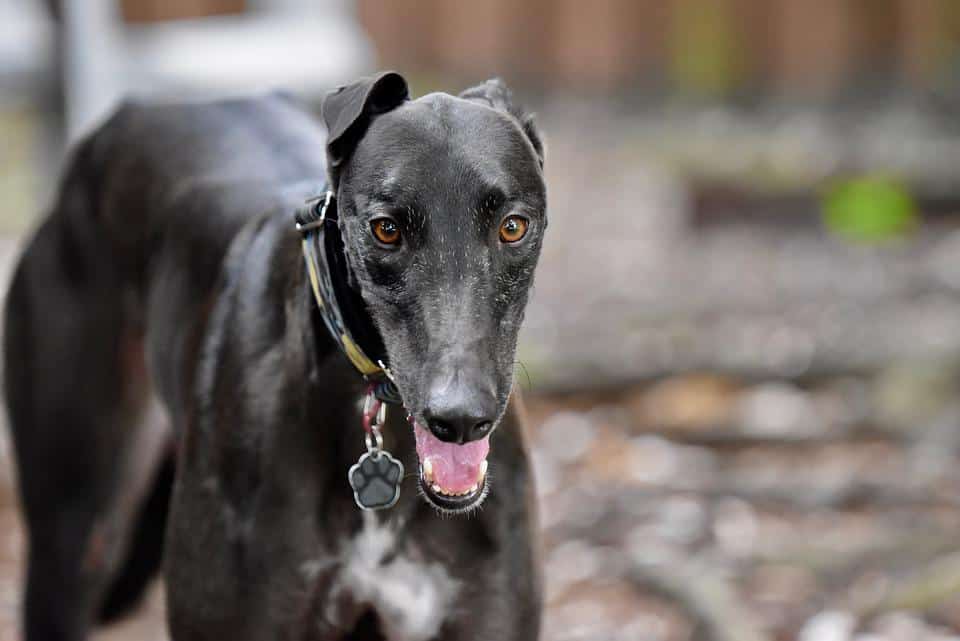 Greyhounds Are Not Normally Used to Being Left Alone
If you have owned dogs in your past you'll know that not every dog is the same. Temperaments are different, eating habits are often way different and just like humans dogs have their own individual ways of doing things.
Our first Greyhound 'Gill' was drastically different from our current Greyhound 'Brittany' in so many ways but they both had one thing in common.
Both did very well when it came to leaving them alone. That was a big surprise to me to be honest.
Greyhounds that come from a racing track environment are often socialized quite well. And, even though they're individually caged for long periods, they still were able to interact with other dogs.
I think this was our biggest fear because we had what appeared to be very social dogs coming to an environment where there would be no other dogs, only humans.
This definitely created some anxiousness on our side because we figured they would have a hard time being alone for any length of time.
However, over time both Gill and Brittany did very well on their own at home for periods of 8+ hours with only a few minor incidents (and I'll talk about those below.)
How Leaving Your Greyhound Alone Could Go Bad
You will learn very quickly whether you have a Greyhound that has issues being alone or whether you have a Greyhound that's OK laying around sleeping and being by him/herself.
Sometimes you hit the Greyhound lottery like we did with Brittany. She can be home and sleep almost all day and be very quiet. She's super chill and doesn't get into mischief.
When you come home from work or from being away for a period of time and you find your Greyhound is panting and looks like he's been up to something, most likely you have a dog that is a bit nervous being by himself.
Sometimes that goes to extremes and you find that something got chewed up like the couch or the kids toys.
Sometimes a gate will be knocked over or the room is in disarray.
A nervous dog will most times end up getting into mischief so if you see any of these things when you get home, you most likely have a dog with issues being alone or possibly some separation anxiety.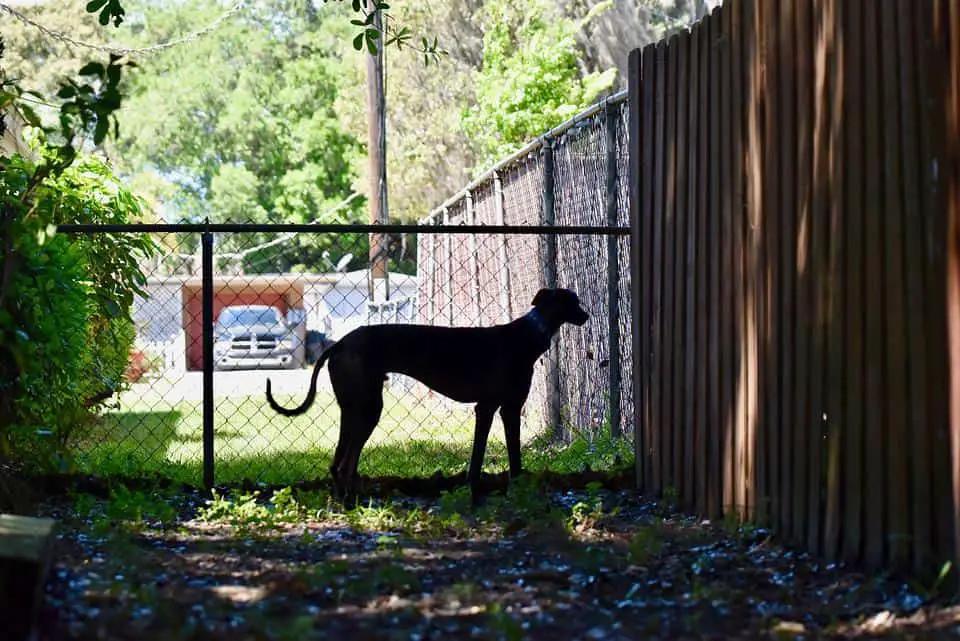 Our Experience with Greyhounds Being Alone
Our first Greyhound Gill was a super good dog and he could be left alone and be relatively OK for long periods of time.
One day our neighbor asked us if Gill was OK because he heard Gill howling when we were gone.
After a while, we decided to experiment and do a "fake leave" to see if Gill would howl or cause any mischief.
We walked out to the garage like we were leaving, opened the garage door and closed it. But we hid in the garage waiting to listen for any craziness.
It didn't take long and Gill started howling (very loudly I might add) as if he was calling for us to come home.
We felt bad but we gave it some time and soon enough he would wear himself out and stop howling after 20-mins or so.
Years later when Brittany came into our lives we were prepared for howling and some separation anxiety issues. But like I mentioned, we hit the lottery with Brittany and she is the most chill and quiet Greyhound you'll ever meet.
Our only issue with Brittany was her problem with loud noises. We know not to leave her alone too long when it's the 4th of July or a thunderstorm rolls in. That's a blog post for another day when we talk about how to deal with Greyhounds and loud noises.
But for the most part, we can leave Brittany alone all day and she will not cause any issues, be accident free and basically sleep all day (see below and we'll tell you how we know she sleeps all day.)
How Long Can You Leave Greyhounds Alone?
Again, this is really based on whether you have a Greyhound that is great being alone or one that clearly has issues.
In most cases, unless your Greyhound was fostered and you have some background, it will be tough to know if your Greyhound will do well by themselves and for how long.
Most fosters will be able to give you a few weeks or months of information to tell you quite a bit about your Greyhound. That information they'll provide you is invaluable.
Make sure you ask plenty of questions about how they do at home by themselves. Most foster families are more than willing to tell you every detail so make sure you ask lots of questions.
With our two Greyhounds, our experience showed that leaving them for an extended period of time over 6+ hours was not an issue.
We often pushed that to 8 hours many times and for the most part both Gill and Brittany were totally fine and didn't get into mischief.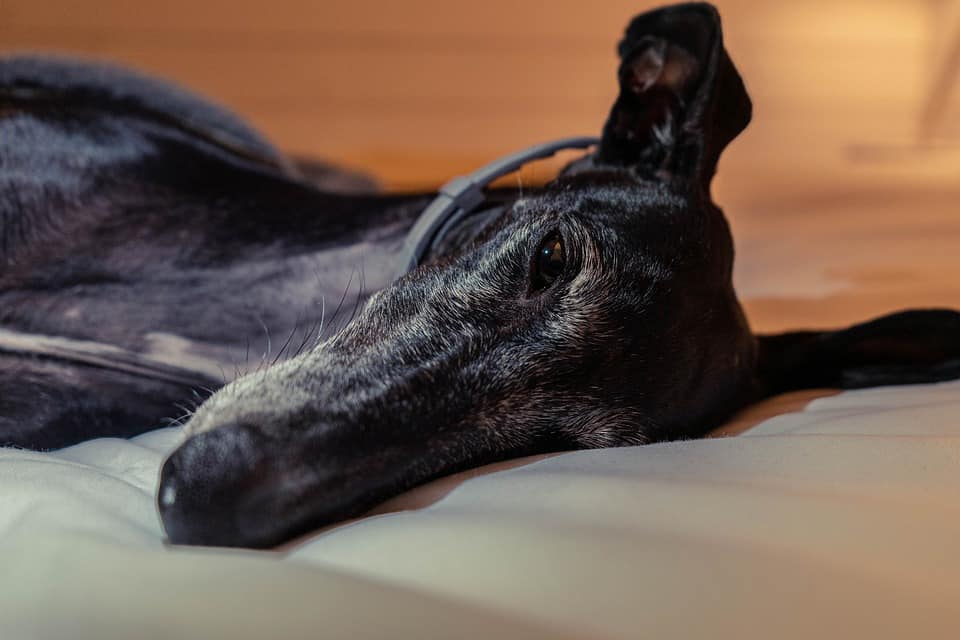 Can Greyhounds Be Left Alone ALL DAY?
I would highly recommend not going beyond 8 hours purely because of bathroom breaks. You do not want to come home to accidents so make sure you do not leave your Greyhounds alone too long.
We tend to confine our Greys to one large room like a family or living room. That way they have room to roam around, have access to water and can find a cozy spot on the floor or in their dog bed to sleep.
By confining them to a room, they begin to 'own' the room so that definitely helps them feel more comfortable when the family is not around.
We also ensure our Greyhounds have some toys laying around and we also have a large dog crate in the corner that we cover with blankets to kind of give them a little place to run away if they get scared.
Brittany doesn't use the crate too often anymore, but I know she will run to it if there are loud noises or if we have thunderstorms. But it's nice that she can go there and feel safe which helps when we leave her alone for an extended period of time.
Some Things That Will Help Your Greyhound When They're Alone
So as I mentioned above, we use the dog crate to help our Greyhounds feel comfortable when we're not around. But there are some other things we would recommend you do so your Greyhound can be left alone while you're away.
TOYS – Leave some of their favorite toys in the room to make them comfortable. Our Greyhounds love the Kong brand toys and anything that was squeaky or crackled and made noise.
POTTY BREAK – Make sure you take your Greyhound out for a potty break right before you leave your home. That alone will not only help your Greyhound be at ease (because they don't want to have an accident, believe me) but it will make you feel better knowing no accidents when you walk in the door.
CONFINE THEM – In the beginning, keep your Greyhound confined to one room while you test to see how they do when they're alone. As time goes on and you build trust in them you can allow them into other rooms or even the entire home. Our Brittany has areas in every room on the first floor she loves to lay in so allowing her more places while we're gone I really believe makes her cope with being alone much better.
LOVE YOUR GREYHOUND! – Make your Greyhounds feel loved every day. That bond you build with your dog will go a long way to making them do better at home when they're alone. You'll know when your Greyhound is content and feels loved (we'll talk about that another time) and that makes those extended periods of time alone much easier on them. Why? Because they know Mom and Dad ALWAYS come home eventually.
REDUCE TEMPTATIONS – I personally don't allow my Greyhounds on the furniture, but there are times they'll jump on the couch and cozy up. Rather than getting them upset, I try to make sure they can't jump on the couch and get scolded so I always line the couch in their room with pillows to ensure they don't jump up on them. We also don't leave anything laying around that will tempt them to chew. Check their surroundings and ensure you don't give your Greyhound too many options for mischief.
PRACTICE – There are some great ways to desensitize your Greyhound over time to being left alone. One thing we do in the beginning is we take short trips so she knows we're always going to come home. Slowly we build that into longer times at home by herself to get her used to 6 or more hours or more of being by herself. This slowly builds her confidence over time and she eventually understands that we always come back.
PRAISE YOUR GREYHOUND – Whenever you come home and there are no issues, praise your dog with belly rubs, ear rubs and even a treat. Make them feel happy and loved and ensure they know that you're happy that they were a good Greyhound while Mom and Dad were away. What dog doesn't love positive reinforcement, right?
CONSIDER A THUNDERSHIRT – Our Greyhound Brittany has a pretty big issue with loud noises and we tried the Thundershirt and it does work to calm her down. She still has issues with loud sounds but I think the tightness of the shirt almost swaddles her like a baby and it makes the nervousness not as bad. It's worth a shot if you think your Greyhound is not doing well at home alone and could use a little extra help.
HAVE A BACKUP PLAN – Luckily our backup plan is about a mile down the road and the plan is called MY IN-LAWS! We're fortunate to live close by family so if we ever need to have someone check in on Brittany, they're a short ride away. Get a backup plan of your own with a friend, neighbor or family member who doesn't mind checking in on your Grey. It's that piece of mind knowing you have help that will help you cope with those separation anxiety issues. And it helps your Greyhound a lot too!
DOGGY CAM – I think one of the best things we purchased for our home was a WiFi "Baby" camera.  We use camera often to periodically check in on Brittany while we're away. There are some really good and inexpensive cameras that use your home WiFi Internet connection to stream live video 24×7. All I do is pull up the app on my iPhone and instantly I'm able to see Brittany to check to ensure she's doing ok while we're away. I also have the option to click a button on the app and talk to her from my iPhone! I've used it a few times to make sure she gets off the couch. Here's a really good option that won't break the bank and is the exact one that I use at home!
Smart Home Cameras Indoor, 2K Pet /Dog/Puppy Camera with 24/7 HD Live Video, Night Vision, Sound/Motion Detection, Two Way Talk, 2.4Ghz WiFi Cam Indoor for Home Security/Baby Monitor, Works with Alexa
【2K HD Night Vision】Equipped with 2K resolution in this baby monitor, you can have a HD view of your kids day&night when you are busy at work. Through the 8X digital zoom, their naughty behavior can't escape from your eyes.
【2-Way Real Time Talk】Through the 2-way talk funciton in this home surveillance camera, comforts your baby from stopping crying or your pets stopping barking. Make your baby and pets feel peace even you are busy at work.
【Instant Alerts for Security】Allowing to receive alerts on your smartphone , you will receive instant alerts from mipc when the indoor security camera detects your baby is crying, the dog is barking, and someone is breaking into your home.
【Video Record/Voice Control】Supporting SD card storage (up to 128GB, not included) for continous record and Cloud storage for event record on this ip camera, get full stories of your home! Compatible with Alexa, know what's happening at your home through echo show while you are working or cooking.
【All Around Protection】The financial encryption level on this 2.4G WiFi Camera will prevent you from worrying about your information being disclosure. Supporting different installation ways (wall mount and stick up), protect your home all around.
Can Greyhounds Be Left Alone? You Bet!
We're living proof that Greyhounds can definitely be left alone at home and do very well by themselves.
If you follow some of the tips above and have a lot of patience, I can assure you that you'll find a good way to handle it with your Greyhound.
Build up their confidence and in turn your confidence will grow as well.
Do you have any questions about leaving your Greyhound alone or how to deal with Separation Anxiety? Feel free to reach out to me and I'll do my best to help you! Take care.
Brian Cooper
Brian Cooper is a 'Greyhound Dad' and is the founder of Rescued Greyhounds. His Greys "Gill" and "Brittany" are his inspiration and his mission is to teach about and promote the adoption of Greyhounds. He also has over 40+ years experience with many other breeds including Toy Poodles, Collies and Border Collies.