As an Amazon Associate I earn from qualifying purchases. Rescued Greyhounds is supported by its readers and may earn affiliate commissions when you purchase through links on this website. See our Affiliate Disclaimer for more details.
Not everyone lives in a big home with a big yard and that includes dog owners of various breeds. But can Greyhounds live in apartments that are normally much smaller than the typical American home?
There are a lot of things to consider when it comes to larger breeds like Greyhounds and the space they need to live comfortably. But our experience tells us that Greyhounds can definitely live in apartments.
There are some things you should consider first before inviting a Greyhound into your apartment full time. Let's talk about those Apartment Greyhounds and figure out if it's the right situation for your family.
Are Greyhounds Easy to Train to Live in an Apartment?
Greyhounds are a smart breed and very eager to learn and make their owners happy. So there's no doubt a Greyhound can be taught to live and behave in an apartment with no issues.
But Apartment Greyhounds normally have to be taught a bit different from Single Family Home Greyhounds.
Greyhounds need to be trained to live in a much smaller space when it comes to apartment dwelling. Now I do understand that many apartments these days can be very spacious. But for the most part, Apartments tend to be smaller in square footage than the typical American single family home.
That being said, it's important that you take the time to train your Greyhound to not only live in a smaller area, but to live in an area that is very close to other tenants and their pets.
Many apartment buildings these days consist of 5-10-20+ individual apartments so your Greyhound will need to be trained to live closely with many other people and their pets. This could include other breeds of dogs as well as cats, birds, ferrets and just about any other 'pet' you could think of.
For most Greyhounds this learning curve is easy and quick. But be mindful that some Greyhounds don't get along with other people and other pets as well. Learn as much as you can from your Greyhound's foster parents to ensure your living situation is a good fit for his or her temperament.
The bottom line is most Greyhounds are willing and able to learn. Greyhounds are content to curl up into a small area and sleep most of the day anyways so they definitely can learn to live in small areas like apartments with relative ease.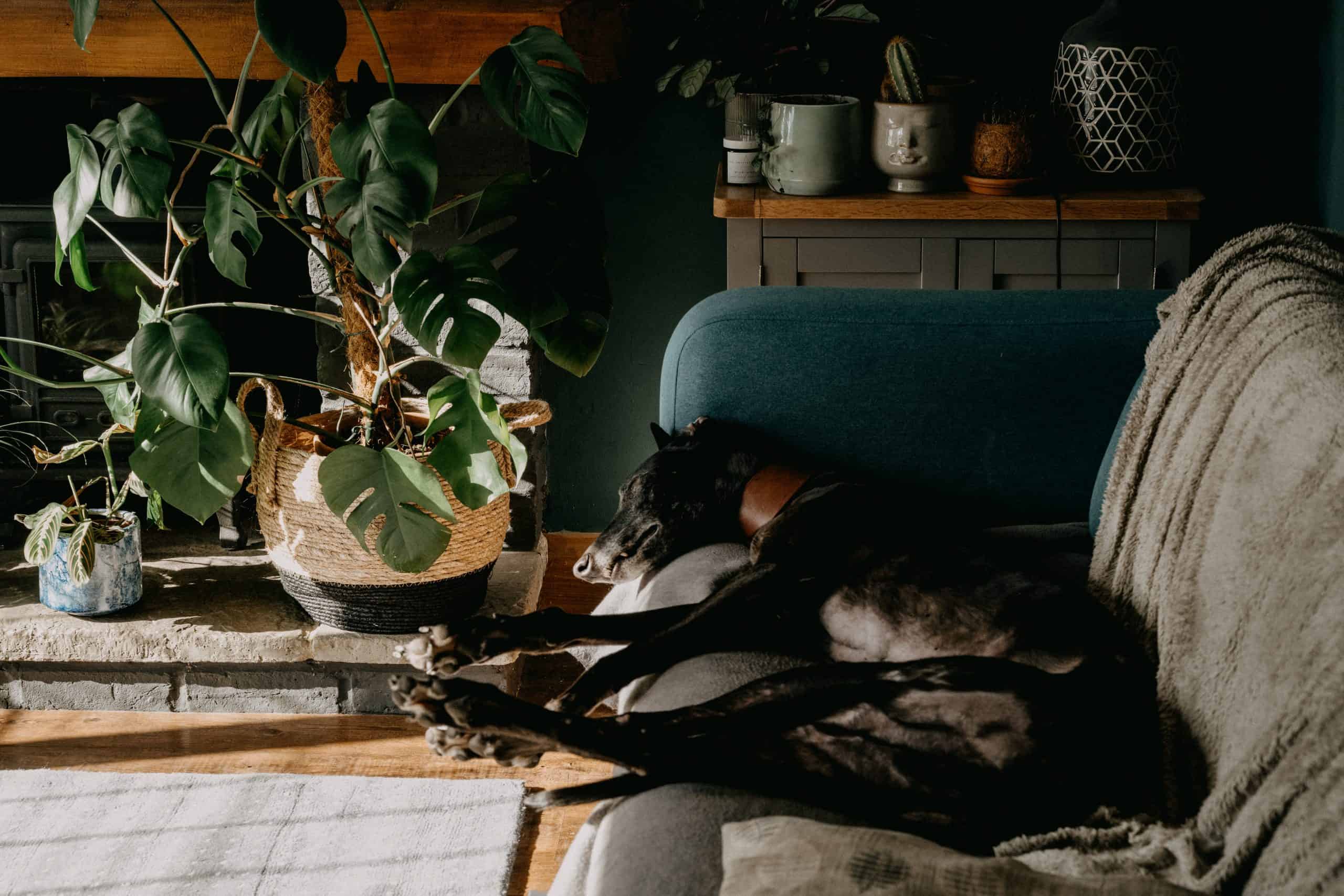 Will Your Apartment Landlord Allow a Greyhound?
Apartment dwellers normally have a stricter set of rules when it comes to pets and many times Landlords will have specific requirements when allowing tenants to own dogs, cats, etc.
As both a Greyhound Dad and a real estate investor, I have first hand knowledge when it comes to allowing pets into apartment buildings.
As a Landlord, I have dealt with the issue many times and I have come to realize that most pet owners make very good tenants. They tend to take care of their pets like a father or mother would and that normally means they'll also take care of the apartment itself. That's good news for me and other landlords!
I do take into consideration the size of the dog as some apartments are simply too small for larger dogs in my personal opinion. A small 1-bedroom apartment with only 1-3 total rooms might not be a good fit for a 50+ pound dog so that is something I and other landlords consider when dealing with tenants.
So first and foremost, talk with your landlord and ensure they'll allow a large Greyhound dog to live in the apartment. Sometimes that requires a larger security deposit or a non-refundable cleaning fee, but it can be a small price to pay for the love your Greyhound will give back to you.
And second, talk with your neighbors and make sure they won't have an issue with a Greyhound living nearby. I know it's 100% your decision (if your landlord allows it) but you need to ensure you get along with your neighbors. Simply educating them about the gentle calm nature of a Greyhound might be just enough to ensure happy neighbors.
Will Your Greyhound Bark Too Much in an Apartment?
Now I can't speak for every Greyhound, but for my Brittany it's a massive undertaking to get her to bark. She's just super quiet and the loudest she'll get is when she is crying in her sleep or playing roughhouse with the kids.
Both of my Greyhounds didn't bark much, especially when the family was home. So barking was and is never an issue.
I can't say for sure your Greyhound won't be a talker and like to bark. Not every Greyhound was cut from the same mold by no means.
But I can tell you I have no problems with my Greyhound barking at night or during the day or even for attention. It just doesn't happen.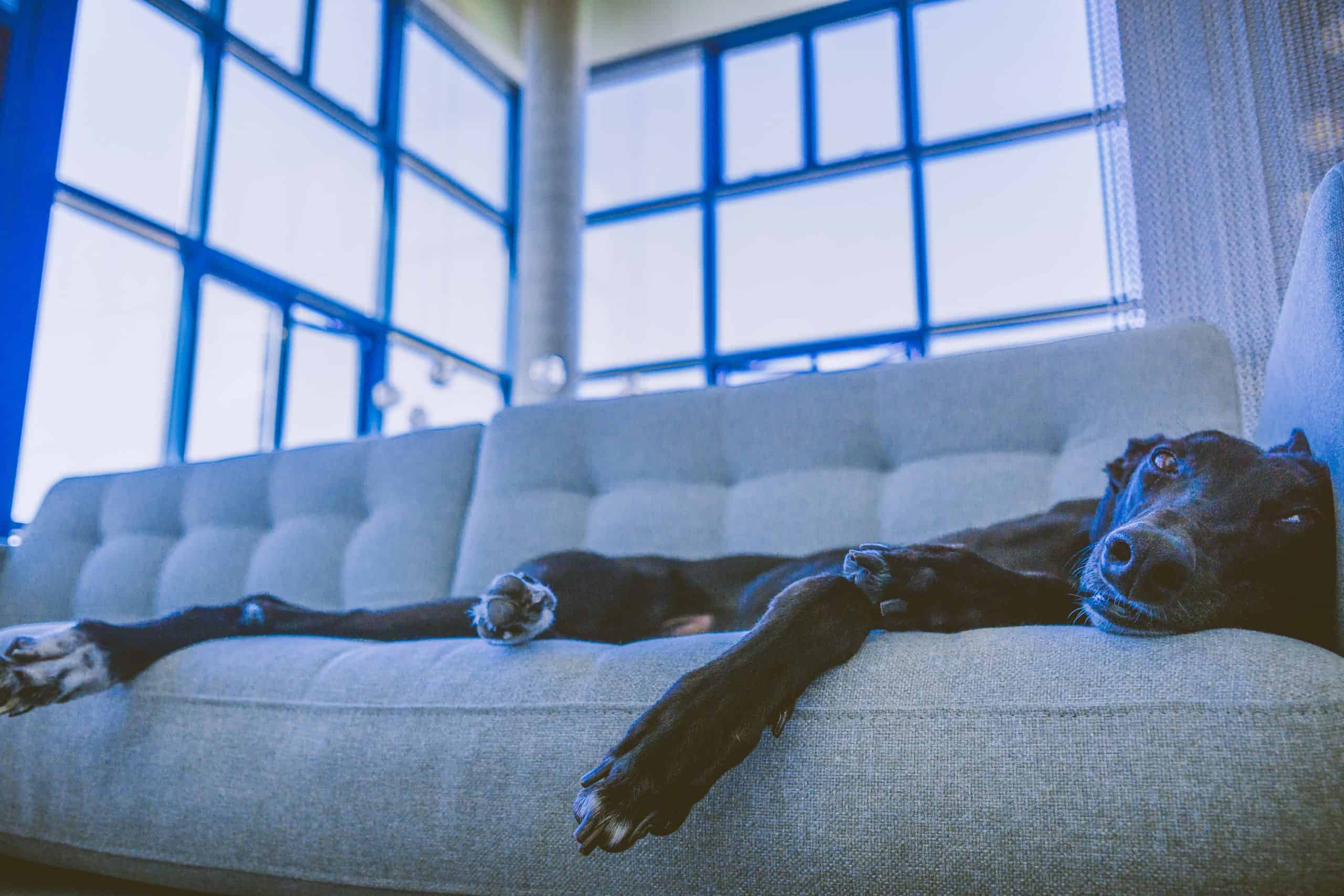 Did my previous Greyhound howl a lot? Definitely and that is something to consider as well. When my Greyhound "Gill" used to be left alone, he would on occasion howl and cry for quite a while until he tired himself out. There's no harm when you live in a single family home that is 50-100 feet away from your neighbors, but that's a big issue when it comes to close apartments.
Again, I would look to your Greyhound's previous foster parents to find out if you have a barker or howler on your hands. Sometimes it makes sense to wait until you find a Greyhound that fits apartment living. There are plenty of smaller 50-60 pound quiet Greyhounds out there, more than you might think!
Can a Greyhound Be Left Alone in an Apartment?
I would say you can definitely leave a Greyhound alone in an apartment. It's probably not the best idea to leave them alone for a long period of time in the beginning, but after a while they will become more comfortable in your apartment and you'll be able to leave them alone for longer periods.
I would highly recommend not going beyond 8 hours purely because of bathroom breaks. You do not want to come home to accidents so make sure you do not leave your Greyhounds alone too long.
I would also argue that Greyhounds are way more docile that many breeds so they are mostly able to maintain their composure when trained properly.
We still have some issues with our Greyhound Brittany jumping up on people and becoming excited, but as she has gotten older she's learning how to control herself better.
That being said, my experience tells me that as a Greyhound is trained and over time, they will learn to adapt to their environment. You may still have some howling and barking, but I'll bet it is way less than many other smaller apartment-friendly breeds out there.
Greyhounds are very smart dogs so train them properly and they will be able to live in just about any environment…..and not even be noticed, I'll bet!
Are Greyhounds a Good Choice for First Time Apartment Dwellers?
This is a good question and I think it depends a lot on your particular situation.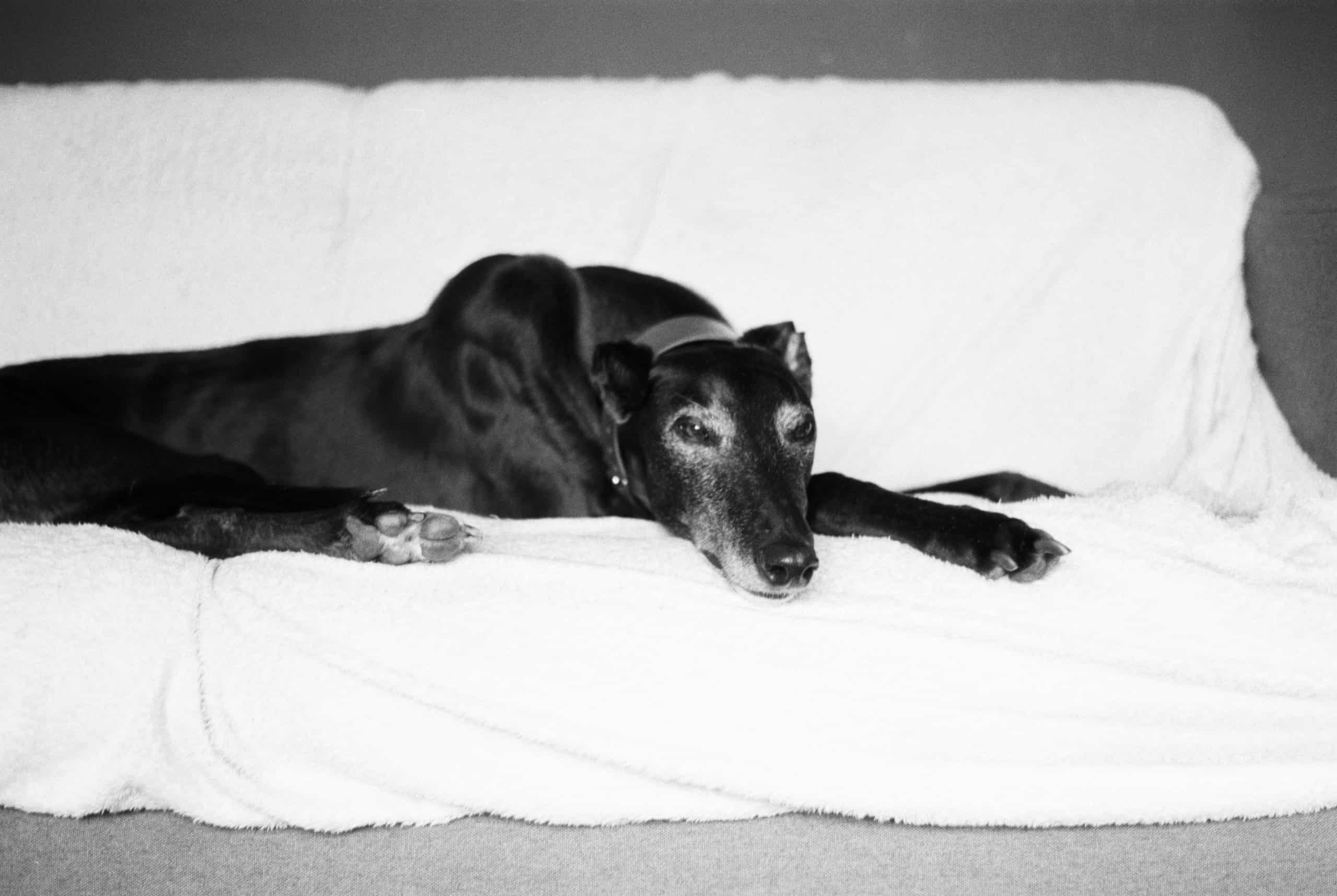 If I were a young person and I just rented my first apartment, I would recommend learning to live by yourself (or your roommate) before bringing a dog into the situation.
I've lived in apartments, condos and single family homes and I know each are very unique. As mentioned, most apartments are very close to each other and some are conducive to pets while others are not.
As you live in the apartment complex for a while, you'll get to know the other tenants and figure out if your building is right for a larger dog like a Greyhound or whether a smaller breed might be better.
So although I would say Greyhounds are definitely a great dog for first time dog owners, I'm a bit more hesitant to say the same for first time APARTMENT dwellers.
Get to know your building, your fellow tenants, your landlord and everything about the complex before making a big decision like this.
Your walls might be thin and your howling Greyhound might really upset some folks. Your floors might be creaky and a 60-80lb Greyhound might make a lot of noise and cause issues with the tenants downstairs. All things you'll figure out over the first few months of living in an apartment for the first time.
Tips for Taking Care of a Greyhound in an Apartment
Great! You've done your homework and decided you want to have a Greyhound in your current or future apartment. Here are some things you'll want to do to ensure things go smoothly.
1. Make Sure You Have Pet Insurance For Your Greyhound
Most insurance companies offer renters insurance policies which often includes pet liability coverage. These policies are normally very cheap and worth having, if your landlord doesn't already require it.
2. Find a Pet Friendly Apartment Complex
Most landlords will advertise if they allow pets and some will also go into detail on types and sizes of pets permitted. If you have a Greyhound or plan to adopt one, make sure you find an owner that will allow larger dogs.
3. Socialize With Your Neighbors
If you have a Greyhound, invite your neighbors to meet him or her. Most people that meet our Greyhound Brittany fall in love with her immediately because she's such a sweet girl.
It's a great way to meet people and it also gets your Greyhound used to seeing other people close by.
4. Keep Track of Your Greyhound While You're Away
These little Baby Monitor Home Security Cameras are perfect for keeping an eye on your Greyhound while you're at work or away for any reason.
I have used one of these for the last 1-2 years and love it. It's the perfect small WIFI camera that you can view live right from your smartphone and that many times is invaluable.
Sale
Kasa 2K QHD Security Camera Pan/Tilt, Starlight Sensor for Color Night Vision, Motion Detection for Baby & Pet Monitor, 2-Way Audio, Cloud & SD Card Storage, Works with Alexa & Google Home (KC410S)
Person/Motion/Sound Detection in Real-Time. Day or Night: With cutting-edge AI algorithms, KC410S can detect people, motion and sound to notify on your smart phone even at night with the night vision (30 ft. away in the dark). Customize up to 4 activity zones around areas which are important to make most use of cameras for home security as a baby monitor, pet camera or nanny cam.Controller Type:Google Assistant;Amazon Alexa.Connectivity protocol:Wi-Fi.Power source type:Corded Electric.Operating Temperature : 0°C~40°C (32°F~104°F). Adapter Input : 100-240 VAC, 50/60 Hz, 0.2 A. Adapter Output : 5.0 VDC, 1.0 A..Compatible devices : Tablet, Smartphone. Power source : Corded Electric.
Secure Your Videos Locally or with AWS Cloud: As an indoor security camera, KC410S continuously records and stores footage or video clips on a local MicroSD card up to 256 GB (MicroSD card not included). Premium cloud storage options are available with industry-standard 128-bit AES end-to-end encryption on AWS.
Enjoy a Smarter Home with Smart Actions: Set your lights to turn on when your camera detects motion with Kasa Smart Actions. Smart Actions allows you to create interactions between your Kasa camera and other Kasa devices to make your life simpler. No need to check your Kasa Spot Pan Tilt throughout the day. Get automatic alerts when it detects motion or sound.
Voice Control: For additional ease of use, pair the Kasa wireless camera with Alexa echo or Google assistant. Use a simple voice command to ask Alexa or Google Assistant to view your live camera feed on compatible Alexa or Google devices. System Requirements iOS 10+, Android 5.0+
5. Create An Area In Your Apartment Just For Your Greyhound
Make your Greyhound feel at home in your apartment by making a space just for them.
Greyhounds love cushy pillow beds, blankets and toys so carve out a spot in your family room just for them with their favorite things.
That will put your Greyhound at ease and give them a place to call their own.
6. Noise Control
Most apartments are surrounded by other apartments and noise is often an issue.
In these situations there are many things you can do to lessen the noise coming from your Greyhound.
Try putting down rugs over hardwood floors and buying plush furniture to help keep noise down. Acoustic panels and window trimmings also work well to quiet an area and make happy neighbors.
7. Try To Maintain a Routine
Most dogs enjoy routines and we try to keep our Greyhound Brittany on that same routine every day including weekends.
It's normally 6:30am breakfast and 5:00pm dinner with 4-5 potty breaks in between. If I miss the 6:30am breakfast by 10-15 minutes, Brittany will start whimpering downstairs to wake me up and to let me know that I messed up her routine.
Come up with a routine that works for you and your Greyhound and do your best to stick with it (within reason.)
8. Keep In Touch With Other Greyhound Owners
It's nice to have a group of people that you can always look to for help and online forums are perfect.
The most popular Greyhound forum is GREYTALK and it's a great source for anyone looking for Greyhound information, tips and suggestions.
My bet is there are quite a few people on their with Greyhounds living in apartments so I'm sure their experience can help you too.
Can Greyhounds Live in Apartments?
ABSOLUTELY!
I think there will be some exceptions out there as some apartments are bigger than others. But for the most part, Greyhounds are very adaptable dogs and can live comfortably and happily in an apartment.
Most Greys just want to have their own space, be able to stretch out and be loved by their owners. And if you have enough space in your apartment for them to walk around, sleep and occasionally do some short zoomies, they'll do just fine.
If you have any questions about keeping a Greyhound in an apartment, feel free to reach out and I'll do my best to help you out. That's all for now. Take care!
Brian Cooper
Brian Cooper is a 'Greyhound Dad' and is the founder of Rescued Greyhounds. His Greys "Gill" and "Brittany" are his inspiration and his mission is to teach about and promote the adoption of Greyhounds. He also has over 40+ years experience with many other breeds including Toy Poodles, Collies and Border Collies.