As an Amazon Associate I earn from qualifying purchases. Rescued Greyhounds is supported by its readers and may earn affiliate commissions when you purchase through links on this website. See our Affiliate Disclaimer for more details.
Greyhounds are known for their incredible speed and agility on land but can Greyhounds swim? Could Greyhounds be the Michael Phelps of dog swimmers?
Let's explore the swimming abilities of Greyhounds and I'll tell you if your Greyhound is capable of actually swimming in pools, oceans, lakes or even your kiddie pool!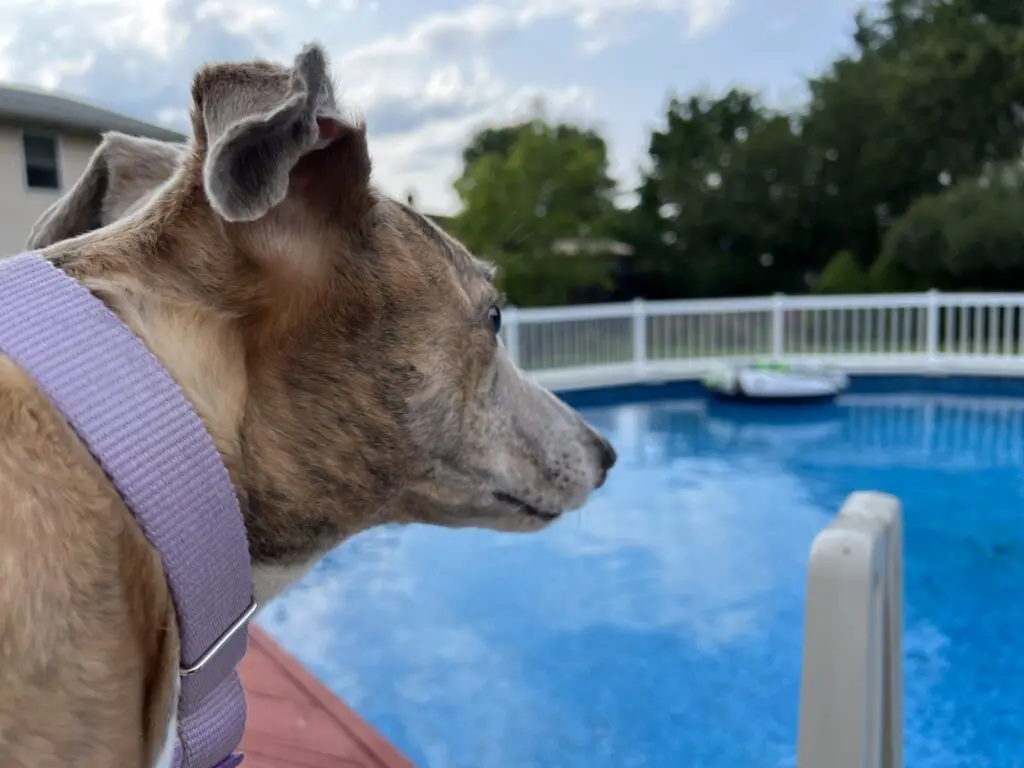 Greyhound's Physical Characteristics
For starters, let's talk about a Greyhound's physical body and see if they're capable of swimming.
Greyhounds, unlike other breeds, do not naturally possess the body composition that makes it easy for them to swim. Their lean bodies and thin limbs make staying afloat a bit more challenging.
However, this does not necessarily mean that all Greyhounds can't swim. Every Greyhound is unique and with proper training and practice, your Greyhound could potentially learn to become comfortable in the water.
It's like walking up stairs. My Greyhound Gill absolutely would not and could not go up a flight of stairs. On the other hand, Brittany the Greyhound runs up stairs with absolutely no problem. The same with swimming. Some Greyhounds will naturally take to it while others need some training or help. Some Greyhounds may never like to swim at all!
Before introducing your Greyhound to swimming, it's essential to take safety precautions, such as providing a dog life vest. This will ensure that your dog stays safe and secure while learning to navigate the water. Remember to always supervise your Greyhound during swim sessions and start slow in shallow water to help build their confidence.
Let's talk about some of those physical aspects of a Greyhound that might make them perfectly suited to swimming.
Greyhounds Have Long Legs and Lean Bodies
Greyhounds have long limbs and lean bodies which contribute to their impressive agility and speed. Seems like the perfect fit for a swimming dog, right?
Their height typically ranges from 27 to 30 inches, and they have a long, slender frame that allows them to cover more ground with each stride. Those long limbs should make it much easier for them to navigate through the water, however they also pose a challenge in terms of buoyancy and overall ease of swimming.
A Greyhound Has Low Body Fat and Buoyancy
Greyhounds have famously low body fat levels, often ranging between 16% to 18%. While this contributes to their sleek appearance and lightning-fast speed on land, it can pose a challenge for them in the water.
For a Greyhound to maintain buoyancy, a certain amount of body fat is necessary as it helps them stay afloat and maintain their balance.
With low body fat, Greyhounds can struggle with buoyancy issues and require more effort to stay afloat. While this doesn't mean they can't swim, it may make the experience more challenging.
Compare that to a Labrador Retriever, who we all know LOVE water. Labs have a 22.7% body fat (on average) which is much higher than a Greyhound at 16% to 18%. That makes it much easier for them to swim as compared to a slimmer Greyhound.
So in general, there are a few physical traits in Greyhounds that make it a little more difficult for them to swim. Not impossible, but certainly a bit harder to swim laps in your pool or lake.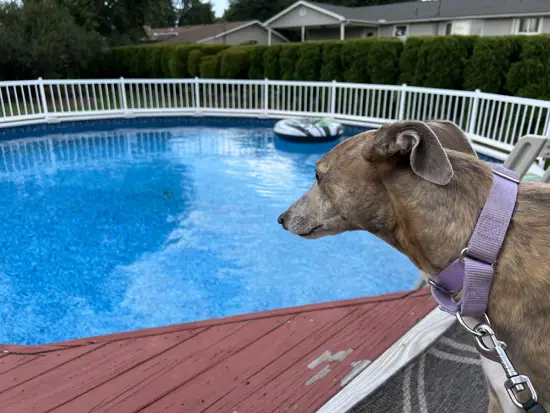 Swimming Abilities and Limitations
Natural Swimmers or Not
So with all of the talk above when it comes to a Greyhound's physical traits you would have to wonder if they are natural swimmers. While all dogs can swim to some extent, Greyhounds aren't as adept as other breeds (like Labradors or Golden Retrievers) so they are not natural swimmers.
In addition to the buoyancy issues we talked about before, Greyhounds also lack a foot style that is common in breeds that are good swimmers. Unlike Labs and Retrievers, they lack webbed feet, which is common in good swimming dogs. Greyhound feet are fairly small and are meant for running and pushing off the ground and hard surfaces. But not so much for paddling in the water.
Stamina and Tiring Easily
This one is pretty important. If you have a Greyhound or are thinking of adopting one, you'll know or soon know that they're known for their quickness and speed for a short time and then sleeping for the rest of the day.
Greyhounds are built for speed and short bursts of energy, not for long and sustained activities like swimming. Their muscles can tire quickly, putting them at risk for exhaustion if they swim for too long.
If you do allow your Greyhound near water, please keep in mind that their stamina is low and they will not swim for long periods of time if they are capable. It's always important to keep a close eye on your Greyhound while they're in the water and be prepared to help them out if they start showing signs of fatigue.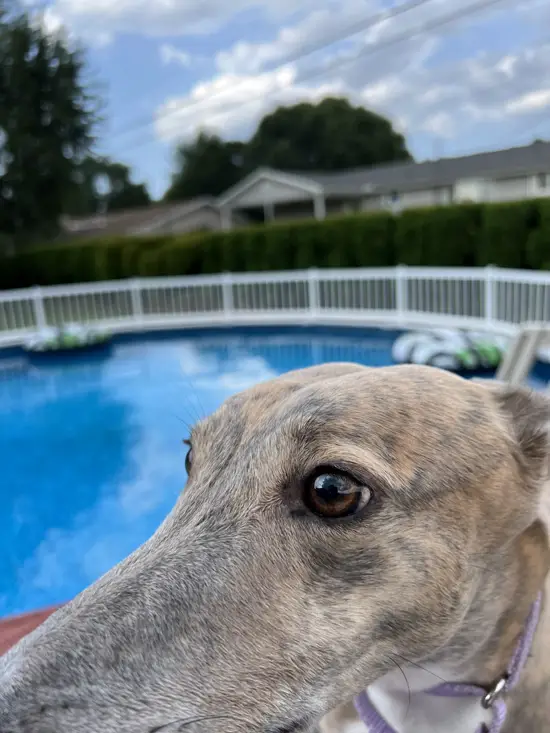 Preparing Your Greyhound for Swimming
Life Jackets for Safety
Before letting your Greyhound take a plunge, ensure they are wearing a life jacket. Greyhounds, like any dogs, can benefit from the added buoyancy and safety features that life vests provide. Choose a life jacket with a good fit and proper size for your Greyhound. Here's a checklist to help you find the right one:
Adjustable straps for a secure fit
Adequate buoyancy to support your Greyhound's weight
High visibility colors for easy spotting in the water
Handle on the back for quick retrieval if needed
Remember that life jackets are essential for your Greyhound's safety, and it's never too late to start using them. Safety should always come first when introducing your dog to any new activity and especially to swimming in your pool or any river, lake or ocean. Our recommendation is the LARGE or X-LARGE Paws Aboard Dog Life Jacket (size depends on girth.) Check it out below.
Sale
Paws Aboard Dog Life Jacket - Keep Your Canine Safe with a Neoprene Life Vest - Designer Life Jackets - Perfect for Swimming and Boating - Red, X-Large
SAFETY - Cozy and secure fit with constructed buoyancy. Our life jackets provide peace of mind during water activities with your canine. Features new, reflective strips for maximum visibility, and adjustable straps!
MULTIPLE SIZES - Paws Aboard Dog Life Jackets are available in XX-small, X-small, Small, Medium, Large and X-large sizes. Dogs come in all shapes and sizes, so should their safety!
CONVENIENT - We've included a handle on top of the life vest for quick and easy grabbing during emergencies or water activities. Our hook in loop fastening system keeps the lifevest securely fastened around your dog's belly and neck.
VARIOUS COLORS - Make a splash with our dog life jackets, available in a range of colors and designs to choose from. These include: racing flames, pink polka dots, nautical dogs, blue & yellow, grey camo, neon yellow, red, and green. Our dog life vest is a stylish lifesaver for your furry friend.
ABOUT US: Fido Pet Products is a family owned business. As lifelong pet owners, we live an active outdoor lifestyle and consider our pets beloved family members. We develop and deliver quality pet products for the safety and enjoyment of our pets. We want to allow pets to safely join in on the active lifestyles of their pet owners.
Building Confidence in Water
To help your Greyhound build confidence in the water, start off slowly and gently. Follow these steps to ensure a positive swimming experience:
1 – Choose a calm and shallow area: Begin by introducing your Greyhound to shallow, calm water. A quiet spot on a river or lake, or even a kiddie pool in your backyard is ideal.
Kids Dog Splash Pad Sprinkler - Jasonwell Non Slip Dog Sprinkler Pad Splash Puppy Pool Summer Outdoor Water Toys Backyard Durable Splash Pad for Toddlers Kids Small Medium Large Dogs Pets
Non Slip Splash Pad for dogs and kids --- The Splash Sprinkler Pad features non slip texture which is slip resistant and prevents slips and falls. Have fun and enjoy water play while ensuring safety.
Fun Outdoor Water Toys --- Water sprays like a fountain. Bring summer fun and joy to your kids and dogs. The splash pad is perfect to cool off your little ones from the summer heat and create tons of fun. Outside Water splash pad toys for pets puppy small medium large dogs and babies toddlers children ages 1 2 3 4 5 6 7 8
Easy to Set Up Splash Pad --- Just plug it to a garden hose or PVC tubing, simply adjust water pressure to lower or higher the spray height. Perfect water toys for outdoor activities, backyard, parties.
Thick and durable Splash Sprinkler Pool --- Burst and leak resistant. The material is 60% thicker than other plash pads.
Reinforced Seams to Prevent Leaks --- The splash sprinkler pad is double reinforced along the seams and with wide sealing edge to prevent any leaks along the stitching.
2 – Walk with your Greyhound: Enter the water alongside your Greyhound, holding the leash and encouraging them as they venture in. Praise and reward with treats as they gain more confidence.
3 – Gradually increase the depth: As your Greyhound becomes more comfortable in the water, incrementally increase the depth to help them naturally adapt to swimming.
4 – Practice swimming: Once your Greyhound is confident, let them paddle around a little. Encourage them to swim by gently placing your hand under their belly, providing some buoyancy support. We'll talk a little more about teaching your Greyhound to swim in the next section below.
5 – Offer reassurance: Be patient and positive as you guide your Greyhound through this new experience. This way, they'll associate swimming with happiness, making it easier for them to enjoy future visits to the water.
6 – Know when enough is enough: If you find that your Greyhound is not like the entire water experience, stop pushing them into an uncomfortable situation. Like the situation above with our Greyhound Gill when it came to stairs, we knew he would never be interested in traversing stairs so we knew to back off rather than make him uncomfortable.
You'll always hear me preach safety first so make sure that at all times your Greyhound is super safe and you're watching him/her constantly around water. Always remember to prioritize their safety and well-being since they are a very important part of your family.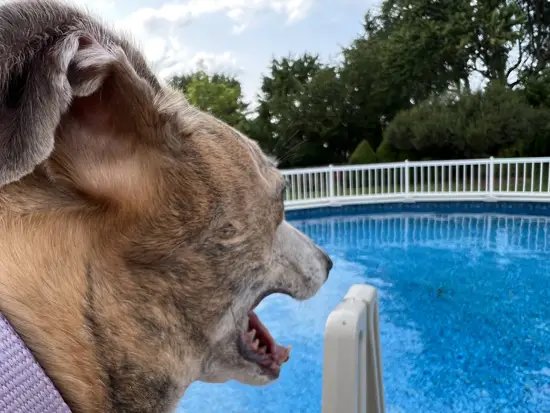 Teaching Your Greyhound to Swim
Starting with Shallow Water
It's probably a bad idea to have your Greyhound jump in the deep end and just see if it works. That's a recipe for problems so it's best to start in shallow water areas of a lake, ocean or pool.. Encourage them to step in by using toys, treats, or simply walking in yourself.
Gradually increase the water depth over time to help your Greyhound become comfortable with deeper water. Remember to stay patient and never force them into the water.
Consistent Training and Positive Reinforcement
Consistency is key when teaching your Greyhound to swim. Schedule regular swim sessions, ideally at least once a week. During these sessions, use positive reinforcement to reward their progress.
Praise them, offer treats, and use their favorite toys to make the experience fun and stress-free. Gradually introduce basic commands such as "stop," "stay," and "swim" to help them understand what you want them to do.
We definitely recommend that you rinse your Greyhound off with a hose after each swim session to remove any chemicals, salt, or dirt. There are a lot of things in pools and lakes that you definitely don't want lingering on a Greyhound's skin or coat, much of which could irritate their skin.
Be sure to either rinse them very well with a garden hose or in your shower. Always use a good dog shampoo (never one made for humans) like the one we recommend below. The Pro Pet Works Dog Shampoo and Conditioner has all natural ingredients and is MADE IN THE USA, which is very important to me. Check it out.
Sale
Oatmeal Dog Shampoo & Conditioner 17oz-5 in 1 Plant-Based Organic Sulfate-Free Soap-Free-Tearless Moisturizer for Dandruff Allergies & Itchy Dry Sensitive Skin-Grooming For Smelly Puppy[Pro Pet Works]
✅【All Natural Plant-Based Patented Formula for Your Furry Friend】Discover our exclusive dog shampoo and conditioner blend, perfect for sensitive pet skin. Made with Organic Aloe Vera Gel, Almond Oil, Oatmeal, and essential Vitamins (A, D, E, B12). It's a safe, effective solution for easy detangling and daily use. Say goodbye to wet dog odors and soothe hot spots and itching with our patented puppy shampoo & conditioner. Treat your pet to the care they deserve!
✅【Premium Pet Care for Your Dog Wellness - Made in USA】This professional pet shampoo and conditioner is created with the finest ingredients, our formula is top-notch, free from parabens, cruelty, sulfates, alcohol, and soap. Our Aloe Vera Gel provides 20 out of the essential 22 amino acids your pets need, usually found in their diet. Formulated for DOGS, CATS, FERRETS & RABBITS 8 weeks and older.
✅【One Wash, Endless Benefits: 5-in-1 Grooming Marvel at Your Fingertips】This innovative dog wash is more than just a grooming product; it simplifies the grooming routine, providing a single solution that cleans, deodorizes, conditions, detangles, and moisturizes your dog's coat and skin, ensuring they stay impeccably soft and clean. It's a complete answer to all your dog's grooming needs, making them look, feel, and smell fantastic, all achieved with the simplicity of a single wash.
✅【Nurture, Nourish, & Renew with Unique Ingredients】What makes our blend genuinely exceptional is the carefully selected ingredients we incorporate. The dynamic duo of Soothing Aloe Vera Gel and Nourishing Almond Oil join forces, providing remarkable relief for your pet's skin issues while maintaining essential hydration. Witness the transformation as our formula even aids in deshedding, resulting in a lustrous and healthier coat for your loyal friend!
✅【Advanced Deshedding Formula for a Healthier, Happier Pet】Experience the magic of our hypoallergenic deshedding shampoo and conditioner, designed to keep your pet's skin in the best condition. This formula goes beyond the surface by promoting healthy skin cell maintenance, safeguarding against UV damage, and efficiently tackling undercoat shedding. The rich infusion of Fatty Acids in our blend ensures your pet's skin retains essential moisture while gently eliminating loose and brittle hair.
Benefits and Risks of Greyhound Swimming
GOOD: Exercise and Cooling Off
Swimming is a great form of exercise for Greyhounds, providing both physical and mental stimulation. It helps to strengthen their muscles and improve cardiovascular fitness, all while staying low-impact on their joints.
Additionally, swimming is a fantastic way for your Greyhound to cool off during hot summer days. The water provides a refreshing break from the heat making it a fun and beneficial activity for them and you.
If you notice that your Greyhound is panting heavily in the summer heat, a nice dip in the kiddie pool is always a fun and relaxing exercise so definitely give it a try.
BAD: Cold Water and Hypothermia
While some cooling off is beneficial, it's essential to be cautious with cold water. Greyhounds have less body fat than other breeds (as we mentioned above) which means they are more susceptible to hypothermia in cold water.
Always monitor the water temperature and limit their exposure to cold water, especially during cooler months. I try to keep our Greyhounds only exposed to pools and such during the warmer months specifically to avoid any hypothermia related issues. You can never be too cautious.
BAD: Precautions with Deep Water
Swimming in deep waters can pose challenges for Greyhounds. They naturally have little body fat, making them less buoyant and more prone to sinking.
It's crucial to supervise your Greyhound closely and introduce them to swimming in shallow water or with a flotation device or life preserver (see above) to ensure their safety. Gradually increase water depth as they become comfortable and confident swimmers, always keeping a watchful eye on them.
Remember to take precautions and consider your Greyhound's individual abilities when introducing them to swimming.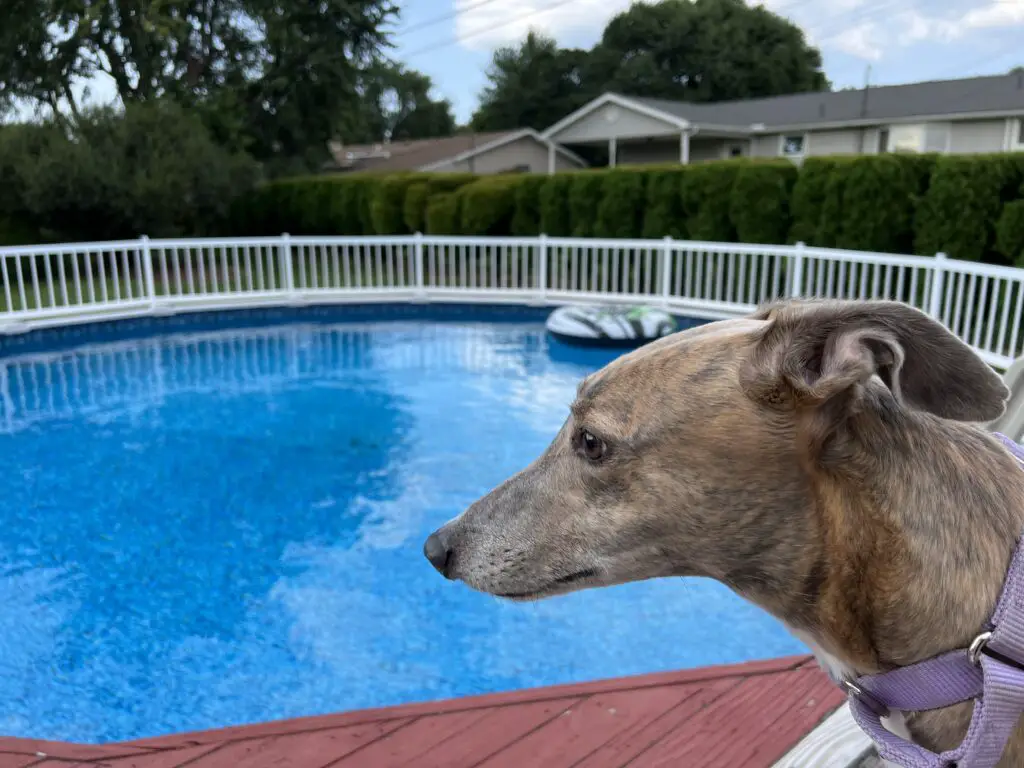 Swimming Alternative Activities
So we've learned that Greyhounds are AWESOME on land, maybe not so much at being the best swimmers. Fortunately, there are plenty of other activities that Greyhounds love that don't involve swimming.
ZOOMIES!: You can take advantage of a Greyhound's natural love for running around the yard to provide them with ample exercise. They may not love to swim, but they ABSOLUTELY LOVE TO RUN! Let Greyhounds be who they are…..not Michael Phelps swimming laps, but doing the running and zooming around the back yard!
Agility Training: Agility training can be another fun and rewarding activity for your Greyhound. This type of training helps improve their coordination and balance. It's an excellent way to keep their racing instincts sharp. Consider enrolling your Greyhound in an agility class or setting up an agility course in your backyard.
Playing Fetch: Our Greyhounds LOVE playing fetch with anything that looks small, fuzzy and that squeaks. It's something fun for them to do, especially if swimming in the pool is not their thing. It's one of their most favorite things to do inside or outside our home.
Playing fetch with your Greyhound is a fantastic way to provide both physical and mental stimulation. It's important to use appropriate toys for fetch, like lightweight balls, soft Frisbees or squeaky toys like the ones below.
Bestseller No. 1
Best Pet Supplies Crinkle Dog Toy for Small, Medium, and Large Breeds, Cute No Stuffing Duck with Soft Squeaker, Fun for Indoor Puppies and Senior Pups, Plush No Mess Chew and Play - Yellow
Premium Soft Chew Toys for Dogs - These adorable dog crinkle toys no stuffing ducks provide your four-legged best friend with an interactive chew toy that makes noise, keeps them engaged, and is gentler on teeth, gums, and dental health
Cute and Colorful Duck Shape - Shaped like a real duck these dog crinkle toys for small dogs, medium dogs, and every size in between comes in 6 unique colors and provides a more puppy friendly shape that's easy to carry around
No Fluff, No Mess Design - Unlike messy bones, ropes, or other toys for aggressive chewers these dog crinkle toys won't leave behind a mess after they're done playing. They also boast reinforced fabric and stitching to help them hold up to chewing
Active Play, Tossing, and Retrieving - Our cute duck chew toys for dogs can be used for bonding with your puppy, reducing stress or separation anxiety, or simply giving them an active outlet for channeling aggression or intense play
GREAT GIFT: Whether you're looking for an exciting birthday, holiday or a just-because gift for your furbaby, you can't go wrong with these incredibly fun dog toys. Click 'Add to Cart' now! Please note that our toys are not edible or meant for consumption.
Sale
Bestseller No. 2
Sale
Bestseller No. 3
Jeefome Dog Toys for Super Aggresive Chewers/Tough Dog Toys/Heavy Duty/Durable Toys for Large/Medium Dogs to Keep Them Busy
DOG TOYS FOR AGGRESSIVE CHEWERS: Are you looking long lasting dog toys? This tough dog toys might be what you need. Dog chew toys for aggressive chewers is has been tested by German Shepherds, Pit Bull, Huskies, Labrador, Golden retrievers and many powerful mix chewers in countless times.Tough dog toys for aggressive chewers large breed keep your high energy dog active and engaged.The dog toy unique design is good chew toy for the dogs' molars.
DOG TOYS FOR LARGE DOGS MILK FLAVORED: This dog chew toy equally suitable for large and medium-sized dogs, and the dog toys itself has a subtle but charming scent that dogs love, milk flavored will attract your pets to longer play sessions, reduce their anxiety and boredom, it will do a lot of help to release the dog's pressure and reduce destructive behavior.Ideal dog chew toys for aggressive chewers 20-100lbs.
ALLIGATOR SHAPE&TEETH CLEANNING: The large dog toys has a cartoon alligator design, attract the dog's attention by shapes, the raised part of the back can help dogs clean their teeth. Biting and chewing can effectively prevent the formation of dental calculus. Choosing the right dog toys can help them develop good chewing habits and enhance chewing ability.
EASY TO CLEAN: Jeefome indestructible dog toys for aggressive chewers easy to clean, a little bit of soap and warm water and it is ready to be played with again.
DOG TOYS PRESENT: The dog toys for aggressive chewers large breed help your pets develop a good chewing habit & bring great fun, which is a great dog birthday gift、Thanksgiving day and Christmas gift. Bright color dog chew toy, easy to find when throwing it in your large yard.
Sale
Bestseller No. 4
Stair-climbing: Encourage your Greyhound to climb stairs as it provides an excellent workout for their leg muscles. It's definitely a great alternative to swimming as well. It also helps strengthen their joints and can increase flexibility. Start with a few stairs at home and work your way up to more challenging routes. But always ensure your Greyhound's safety when introducing them to new activities.
But remember, if they don't like stairs like our boy Gill, just avoid them all together. No sense in making them uncomfortable.
Creating a well-rounded exercise routine consisting of sprinting, agility training, fetch, and stair climbing can help fulfill your Greyhound's physical needs and keep them healthy and happy.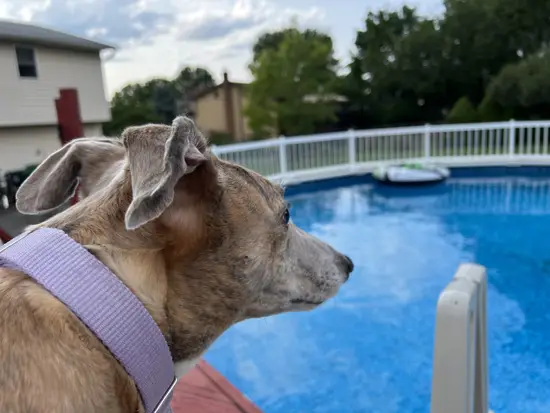 Frequently Asked Questions
Q. Do Greyhounds enjoy swimming?
ANSWER: Greyhounds, like any other dog breed, have individual preferences. Some may love swimming, while others might be hesitant or afraid of water. You can introduce your Greyhound to water gradually and see how they react to determine if they enjoy swimming.
Q. How well can Greyhounds swim?
ANSWER: As mentioned above, Greyhounds are not natural swimmers due to their lean body and low body fat. However, this does not mean they cannot swim. With practice and proper guidance, they can learn to swim and even enjoy it. Some Greyhounds may only be able to swim short distances, while others might excel at longer distances.
Q. So in summary, what are the precautions to take when letting a Greyhound swim?
ANSWER: There are definitely some precautions you should take and things to remember when letting your Greyhound swim:
Use a well-fitting dog life jacket to provide extra buoyancy and support, especially during their initial swimming experiences.
Start in shallow water and gradually move to deeper areas as your Greyhound becomes more comfortable.
Be aware of water temperature, as Greyhounds can get cold easily due to their low body fat. Consider using a dog wetsuit if necessary.
Always supervise your Greyhound while they are swimming to ensure their safety.
Q. Do Greyhounds need swim lessons?
ANSWER: While swim lessons are not mandatory for Greyhounds, it can be beneficial to help them become comfortable and confident in the water. A professional trainer or a local dog swimming class can provide guidance and support for you and your Greyhound as they learn to swim.
Q. Is swimming a good exercise for Greyhounds?
ANSWER: Yes, swimming can be a good exercise for Greyhounds. It is low-impact and can help maintain their overall fitness, especially for those with joint issues or injuries. However, make sure to monitor your Greyhound's level of comfort and enjoyment during swimming sessions and adjust accordingly.
Brian Cooper
Brian Cooper is a 'Greyhound Dad' and is the founder of Rescued Greyhounds. His Greys "Gill" and "Brittany" are his inspiration and his mission is to teach about and promote the adoption of Greyhounds. He also has over 40+ years experience with many other breeds including Toy Poodles, Collies and Border Collies.